TOURISTIC BUS
SEVILLA – TRIANA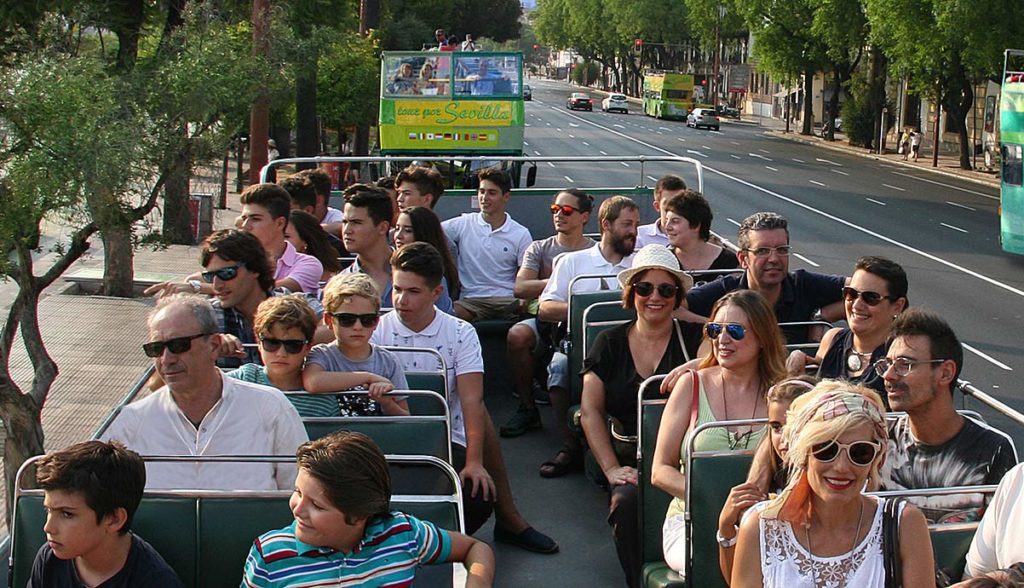 WHAT'S IN OUR TOUR
You are thinking about visiting Sevilla? With Sevilla and Triana tour you will discover this magical city and its most important monuments in the most convenient and comprehensive as possible through our exclusive and authentic British tourist buses discovered two plants, with which you'll be able to hop on - hop off (up and down) unlimited in any of our 15 stops for 1 day. In this way, Sevilla will visit flexibly, at your own pace, improving your travel experience. In addition to our bus routes, We also offer tours to the foot completely free so you do not miss a single detail of this charming city. Escape to Seville with "Tour Sevilla and Triana"!
With the purchase of your ticket online "Tour Seville and Triana" you get the following tours and activities:
• Tour tourist bus "The Sevilla Monumental".
• Tour tourist bus "The Sevilla romantically lit".
• Walking Tour Triana neighborhood.
• Walking tour through the neighborhood of Santa Cruz.
• We have 15 bus stops where you can make hop on - hop off (up and down) of the bus whenever you want.
• Promotions and discounts exclusive to the present your ticket at various attractions, monuments, shops, restaurants and other participating establishments.
• Free WIFI on the bus.
• We give a pair of headphones.
• SPECIAL PROMOTION: Now, with the purchase of your ticket 1 day, the second day is FREE. You can enjoy our services twice as long!
Schedule
Low season (November to March) from 10:00 a 18:00 hours outputs each 30 minutes
High season (April-October) from 10:00 a 20:00 / 22:00 hours outputs each 20 / 30 minutes
Adults ………………………. 20,00 € / person
Children of 5 a 12 years …… 07,00 € / person
Children of 0 a 4 years …….. Free
Booking Request Form
You can ask us to reserve the products you want to enjoy during your stay at Hostal Roma.